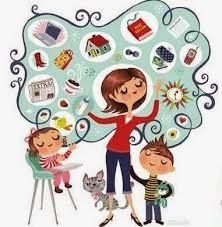 Time for a Schedule Check
I think it's safe to say that it can be super easy to stray away from a schedule when you're homeschooling. I mean heck, you have the ability to wake up whenever you want, mosey on over here, go there, have to pick up the house and so forth. I do think, though, that it's really important to try and maintain as much of a schedule as you can to both keep consistency for your children and just overall sanity. At least that's what I need in my life anyway. Below you'll find the schedules that I have tried to keep to as best as possible this year, but like anything sometimes these schedules just go out the window, and that's ok! I'll be updating the schedules as the change too.
Below are 3 schedules that we're using right now. You can download a PDF file by clicking on the picture. Let me know what you think! If you want an editable copy of my schedules, be sure to subscribe to my newsletter where I send out other freebies too!